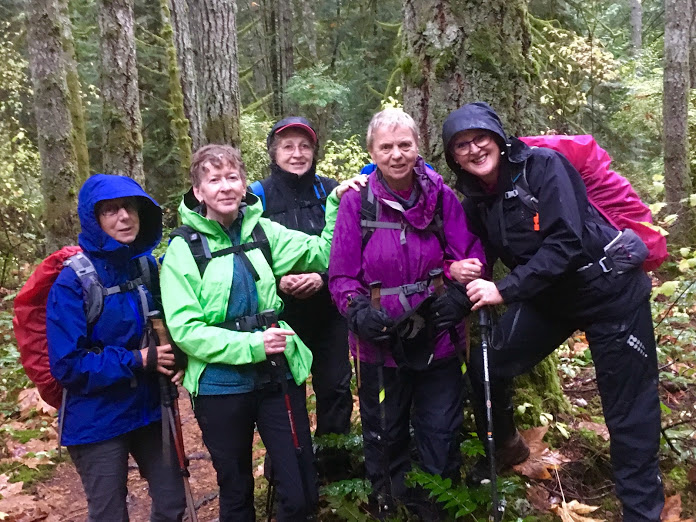 John Dean Park
John Dean Park
Liz Bicknell led a moist and misty hike on Saturday November 3. When Liz and the 3 other hikers, Loretta, Puri and myself, arrived at Saanich Municipal Hall to head off for the trail head, the rain was falling with no indication that it would let up soon. The hikers had a decision to make, take a chance that the rain would stop or just hike over to the nearest coffee shop and call it a day. In fairness to anyone that may be waiting at the trial head, we set off to the park fully expecting that we would find no one there and that coffee was in our future.
As we neared the meeting spot, Loretta was convinced that the rain would let up and that we would indeed, have a great day for hiking. As luck would have it, the rain had stopped by the time we arrived at the trail head. With Liz in the lead, we set off up the trail. Just a few minute into the hike, Mary caught up to us.
The forest floor was littered with giant Big Leaf Maple leaves and shards of Arbutus bark. The mosses of every type were vibrant shades of green as they soaked in the misty moisture.  The moisture also brought on a great display of fungi in all shapes, sizes and colours. Through the mist, the trees cast eerily beautiful shadows. So instead of looking out at ocean and valley views, we focused our attention on the trees, fungi and mosses.
The rain fell intermittently all day and the November air had a bit of a chill. Although a little slippery and soggy, the amazing sights and great company made this hike in John Dean park, well worth it! What a magical hike it turned out to be.
Happy hiking!